In 1964, when Raymond L. Lutgert purchased an undeveloped parcel of land in Naples, Florida, he alone envisioned the potential of the 760 acres bordered on the west by a mile and a quarter of pristine Gulf beach and on the east by U.S. Highway 41, the primary north-south route through Southwest Florida. During the next four years, Lutgert would lead a team of architects, engineers and land planners in the creation of a landmark plan, establishing not only the first planned unit development district in Collier County but also one of the first in the State of Florida.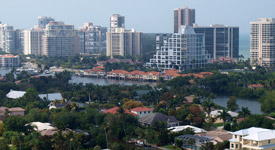 The singular plan for the Gulf-front section of Park Shore created Venetian Bay, a navigable body of water separating the mainland portion of Park Shore from the Gulf-front community. (Click on photo at right to view larger image.) A serpentine design was established that artfully arranges 29 land parcels amidst five beachside parks, four open-space commons, and a meandering beach promenade. Also designed was a natural dune system that has established a prestigious community of home sites and pioneered underground utility and storm water systems in Naples. The result of these collective creations was a masterwork in its environmental aspects. The Park Shore plan, both in concept and in application, was, in fact so sound that it served as a model for future development.
From 1970 to 1983, the Lutgert Companies began to build what we know today as Park Shore. Their first Florida condominium was Colony Gardens, a unique combination of mid-rise apartments and town homes with private docks on the bay. One year later, the company would introduce Horizon House, the first indicator of what would become the Lutgert Companies' trademark. Horizon House was the tallest and most luxurious building of its time.
In 1976, the final phase of the Venetian Villas was completed. Easily the most sketched, painted and photographed buildings in Naples, Venetian Villas was created by Raymond L. Lutgert as a tribute to the Mediterranean-styled architecture. Representing a significant architectural and permitting achievement, each of the villas is actually built over the water. Venetian Villas creates an incomparable Venetian ambiance not only for its residents, but also for all Neapolitans.
Esplanade Club was built in 1980 on an extraordinary 4-1/2 acre beachfront site. It was planned to offer unsurpassed views of the Gulf of Mexico from every residence. Esplanade Club comprises 121 units on 18 residential floors, with seven units per floor. The residences range from 1,600 to over 2,600 square feet of living area.
In 1988, one of the most unique and exquisite shopping areas opened to much acclaim. Heralded for its creative design, a gorgeous waterfront setting and successful retail shops, The Village on Venetian Bay reflects a classic Mediterranean theme with meandering terra cotta walkways, quaint courtyards, Venetian-style facades and a relaxed bayside ambiance. Initially opening in 1988 with 40 exclusive specialty shops, restaurants and galleries, The Village experience was enhanced in 1990 with the introduction of a successful second phase including 20 handpicked fashion boutiques, galleries, and waterfront restaurants. Today, The Venetian Village brings a true European feel to a city that rivals its sister in Italy. If you are looking for a truly unique shopping experience in a setting that is like no other, visit The Village on Venetian Bay and see for yourself what true elegance is about.